Purse-Impressions Adds New Chapter for DC Metropolitan Area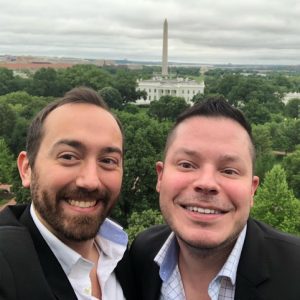 Cave Creek, AZ, September 15, 2020 – Purse-Impressions, a nonprofit organization with eight locations in Arizona, Colorado, Florida, and Canada, is expanding into the Washington, D.C., metropolitan area. The chapter, which will provide gently-used and new purses, bags, and backpacks to graduates of area rehabilitation centers, will be led by Brian Silengo and James Brennan.
Purse-Impressions ​honors the life of Courtney Elizabeth Michaels, founder Patricia Brusha's daughter. Suddenly and tragically at 28 years old, Courtney was diagnosed with Stage 4 cirrhosis of the liver from years of alcohol abuse. Both her liver and kidneys began to deteriorate at a rapid pace and although her organs had already started to shut down, it was her addiction that took her life on June 4, 2019.
Having thought she won her fight against substance abuse, Courtney told her mother Patricia, about an idea. "Courtney didn't like that women who graduated from rehab often left there with their personal items in a plastic bag," said Brusha. "She wanted better for them. She wanted those women to hold their heads high, to be proud of their amazing accomplishment and leave with something that showed their value."
The initial growth stage for the chapter will focus on the immediate DC metro area and expand into other areas to support additional local communities. In time, the chapter will partner with a variety of organizations throughout the region that support addiction recovery.
"Purse-Impressions transforms the tragedy and heartbreak of losing a child​ to ​addiction into inspiration and compassion for others who are overcoming addiction in their own lives," said Silengo, chapter president. "I wanted to do this because so many of us know someone who has battled or is battling with addiction. Having known Courtney since she was a teenager inspired us to get involved and give back to our local community in this purposeful way. Bringing Courtney's story to the DC metro area is an honor for me and James."
"Many addicts come into substance abuse treatment programs with little or no belongings so receiving a gift like this as they set out to face the world is incredibly meaningful and empowering," said Brusha. "Having Brian and James extend our reach and message to the Washington, DC region is powerful, especially during this time of COVID. Statistics show that substance abuse has been exacerbated during the pandemic."
The new chapter is currently accepting gently-used and new purses and backpacks, as well as cash donations, as preparations for a major Christmas delivery gets underway. Just $4.95 covers the cost of new toiletry kits. All donations are tax deductible. Additionally, Purse-Impressions has partnered with the AmazonSmile Foundation, receiving 0.5% of the purchase price of eligible products when indicated as the charity of choice. To get involved, donate, partner, or volunteer as a drop-off location, contact [email protected].
# # #
About Purse-Impressions
Launched in 2019 in memory of Courtney Elizabeth Michaels and her struggles with alcohol abuse, Purse-Impressions is a volunteer, nonprofit organization whose mission is to gift graduates from rehab with gently-used purses, bags, backpacks, as well as toiletry kits, to celebrate this significant milestone, allowing them to move forward with dignity and strength. To date, the group has donated more than 1,200 purses in eight locations in the U.S. and Canada.